Filter by Category
Live Art Experiences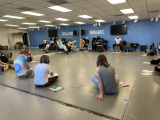 Registration Unavailable
Live Art Playwriting Workshop (Code 569)
SPARC requires all students to be up to date with their COVID-19 vaccines. Click here to learn more and visit other helpful FAQs.
Live Art Experience Workshops: Open to All! 
Throughout the year we will have three Live Art experiences open to all members of the SPARC community, not just current Live Art students. This is an opportunity to participate in a rigorous, accessible, fun artistic experience in community with fellow youth artists and incredible teaching artists.  
Join us July 25-28th from 4:30-6:00pm for the Live Art Experience Workshop: Live Art Playwriting. In this six-hour intensive you can expect to write collaboratively with fellow youth artists and professional playwrights, ultimately creating short plays. You can expect to leave class with short works written by you as well as tips for continuing a writing practice. You do not need prior playwriting experience; all you need is creativity and a willingness to try new things! 
The Live Art Experience Workshop Series is open to all youth in the SPARC community, not just students currently enrolled in Live Art! 
Scholarships are available!